Luxe woonkamer inrichten: zo creëer je het ultieme thuisgevoel
2016-10-06
Je woonkamer is misschien wel de belangrijkste plek in huis. Hier wil je tot rust komen, samen zijn met vrienden en familie, maar vooral: je ultiem thuisvoelen. We geven je graag wat tips om dat te realiseren!

Luxe woonkamer inrichten #1: ruim op
Voordat je begint met het inrichten van je woonkamer: ruim op. Je hebt altijd meer dan je denkt en je wilt straks wel in alle rust kunnen ontspannen je nieuwe woonkamerinrichting. Daarom is dit het uitgelezen moment om eens kritisch door al je spullen te gaan en de boel eens flink op te ruimen.

Luxe woonkamer inrichten #2: ga voor groot
Over ontstpanning gesproken: veel kleinere elementen zorgen al snel voor een rommelig geheel. Wil je echt rust creëren, kies dan liever voor een aantal grote meubels. Bovendien ogen kleine meubels al snel nietig in een ruime woonkamer, terwijl grote meubels juist de grootte van een oppervlakte benadrukken.

Luxe woonkamer inrichten #3: werk met eilanden
De tijd dat een woonkamer alleen gebruikt werd om 's avonds de krant te lezen of televisie te kijken ligt achter ons en dat zie je terug in de interieurs. Een extra zithoek, een fijne thuiswerkplek, een sfeervol eetgedeelte, zomaar wat mogelijkheden waarmee je je woonkamer een extra dimensie kunt geven. Maar je wilt natuurlijk niet dat het een chaos wordt. Gebruik daarom vloerkleden als subtiele grens voor de 'eilanden' in je woonkamer. Zo blijft de ruimte in balans en creëer je rust. Heb je een huis met veel rechthoekige ruimtes? Ga dan voor een rond kleed om de variatie erin te houden.

Luxe woonkamer inrichten #5: de kunst van het combineren
Het is geen geheim dat we fan zijn van Italiaans interieurdesign. Waar de Italianen goed in zijn, is het mixen en matchen van verschillende collecties. Ze snappen als geen ander hoe bijzonder een ruimte wordt door verschillende stijlelementen te combineren tot één geheel. En wij kijken die kunst graag van ze af!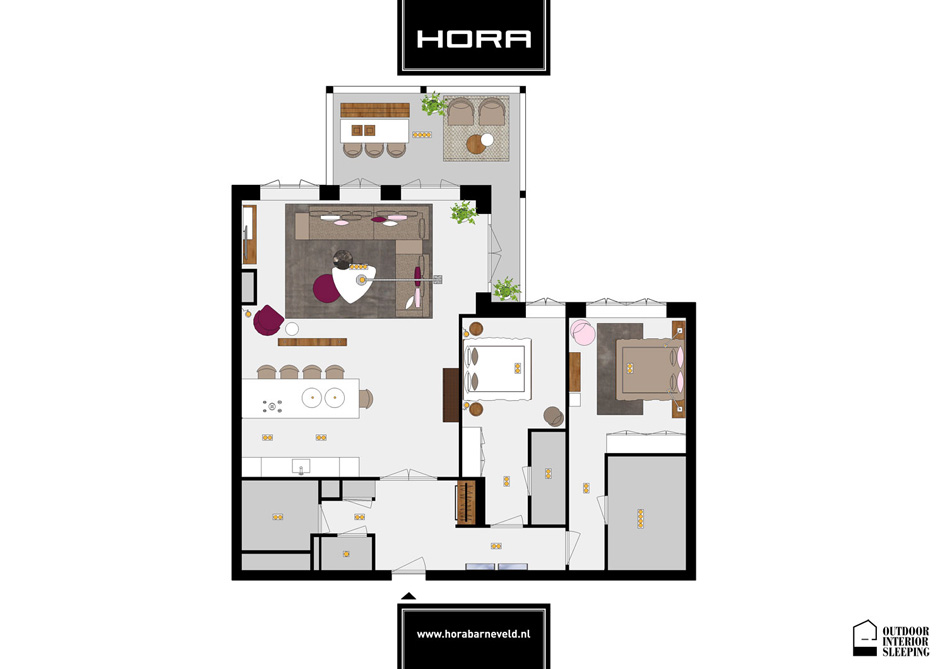 Heb je behoefte aan een ontwerp voor je woonkamer? Kom om te beginnen eens langs in onze showroom en laat je inspireren. Neem gelijk de afmetingen of tekening van de architect mee. Ook een paar foto's van de situatie helpen ons om de sfeer bij je thuis te proeven en zo een gericht ontwerp te kunnen maken passend bij het huis, de ambiance en de stijl. We maken graag een ontwerp op maat voor de complete inrichting van je woonkamer, zodat jij heerlijk tot rust kan komen op een plek die perfect aansluit bij je persoonlijkheid én het karakter van je huis.
MEER OVER ONZE ONTWERP- EN ADVIESSERVICE