Ontwerpen van je interieur- en outdoorbeleving
2018-04-03
The Living Experience. Drie woorden die alles zeggen over HORA. Wij zijn geen interieurzaak. Wij verkopen niet gewoon meubels. Wij creëren indoor en outdoor belevingen by design. Het gebeurt dan ook eigenlijk nooit dat iemand bij ons binnenloopt voor een bank of een tuinset. Onze klanten zoeken een compleet beeld voor hun tuin of huis. Of beide. Dat is onze specialiteit. Hoe gaat dat in zijn werk?

Alles bij elkaar brengen
Als je toe bent aan een nieuwe interieur- of outdoor beleving, heb je vaak al een aardig beeld van wat je ongeveer wilt. Je weet namelijk wat je mooi vindt en wat niet. De uitdaging zit 'm eigenlijk altijd in de compositie: hoe breng je alles bij elkaar? Welke kleuren, stoffen en accessoires vormen samen een prachtig geheel? En hoe plaats je dat op een mooie manier bij elkaar?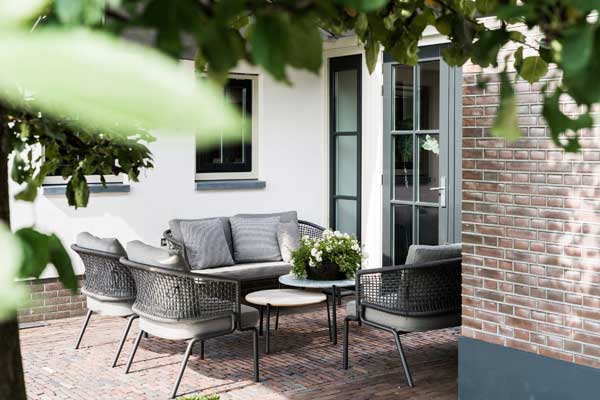 Maar eerst koffie
Kom je bij ons voor een ontwerp, dan maken we graag eerst kennis met je. We drinken een kop koffie en kletsen gezellig wat. Je hebt natuurlijk weinig tijd: een middagje uitgebreid shoppen zit er niet in. Dat doen wij voor je, op basis van onze kennismaking. We lopen een rondje door onze showroom en dan krijgen we een heel goed beeld van wat jij mooi vindt en wat niet. De grote lijnen worden dan snel zichtbaar.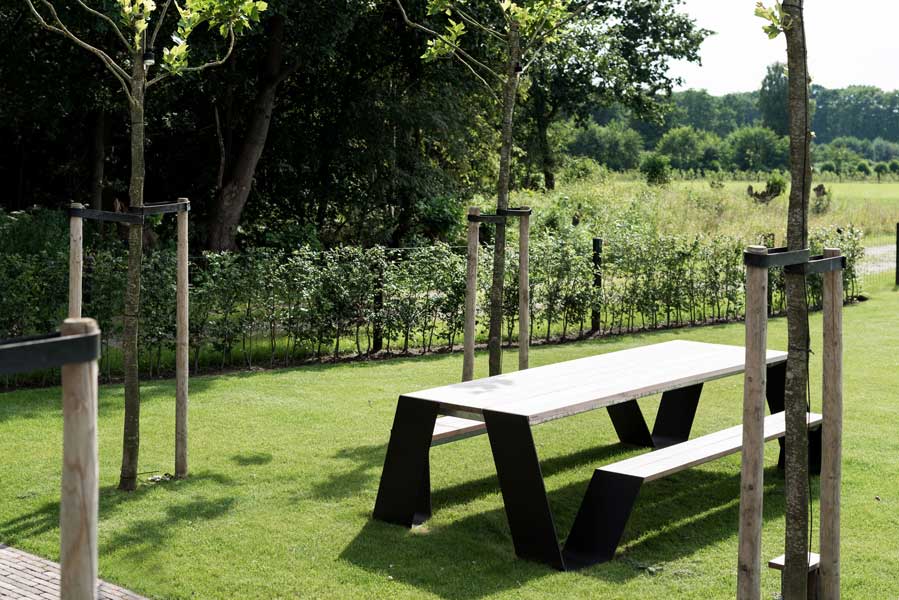 Nooit een standaard magazine opstelling
Vervolgens gaan we aan de slag. Daarvoor ontvangen we graag een tekening van de architect van het huis of de tuin. Als die er niet is, komen we zelf de boel opmeten. Het ontwerpen zelf is de grote uitdaging en daar gaat het meeste werk in zitten. Bij ons wordt je huis namelijk geen standaard magazine opstelling. Nee, wij maken van elke ontwerp iets unieks: een markante combinatie van kleuren, stoffen, merken en materialen.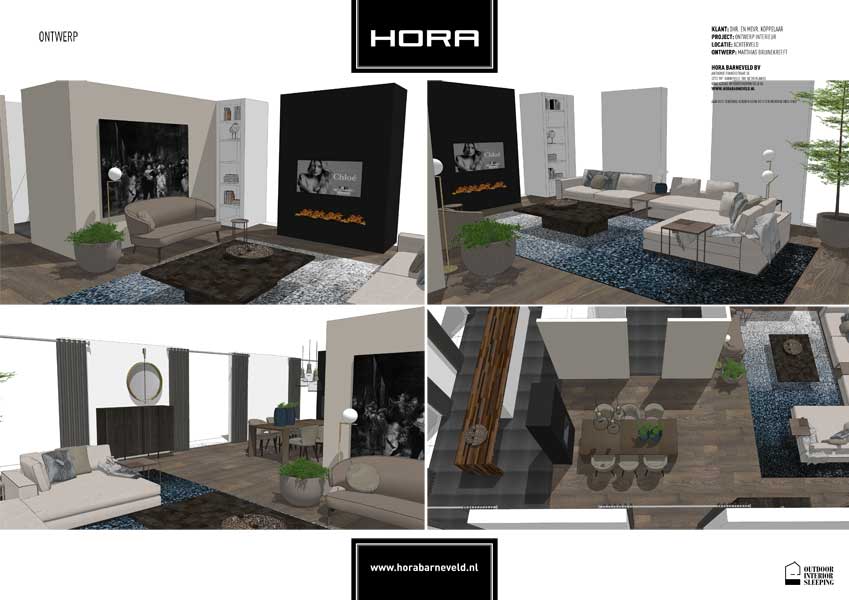 Tot de bodem uitgezocht
Daarbij laten we geen detail ongemoeid. Vazen op tafel, een spotje aan de wand, tapijten: het complete plaatje komt aan bod. Als wij tevreden zijn met het ontwerp, nodigen we je opnieuw uit in onze showroom en presenteren we het resultaat. Inclusief offerte. Alles tot de bodem uitgezocht.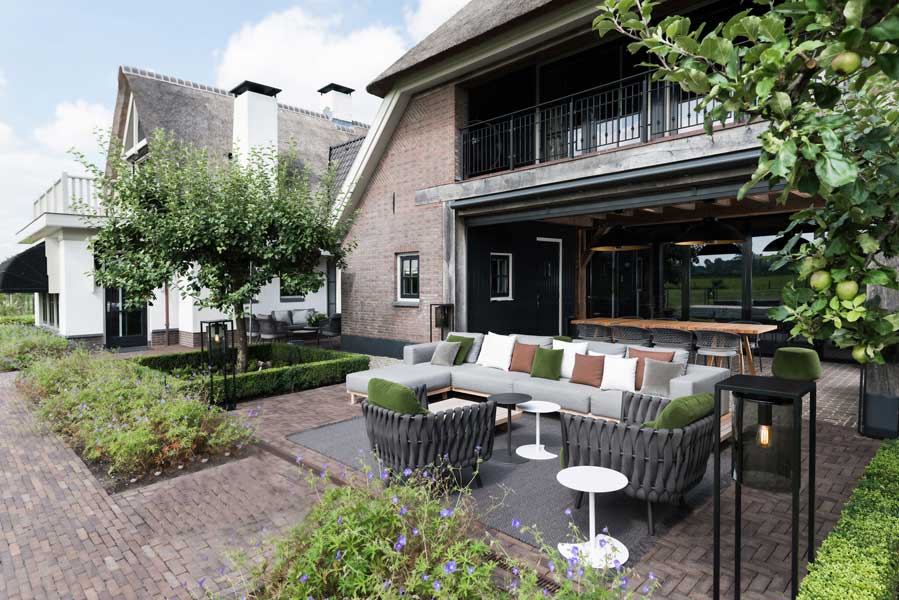 Het interieur naar buiten halen
En wat er bij je binnen staat, trekken we graag door naar buiten. Tegenwoordig heb je buiten vaak meerdere terrasjes en kun je dus meerdere manieren van buiten zitten creëren. Dat doen we met bijvoorbeeld schermerlampen, sierkussens, accessoires, verwarming of muziek. Uiteraard houden we daarbij rekening met de ligging van je tuin: een tuin aan zee stelt andere eisen dan een terras op de vijftiende verdieping.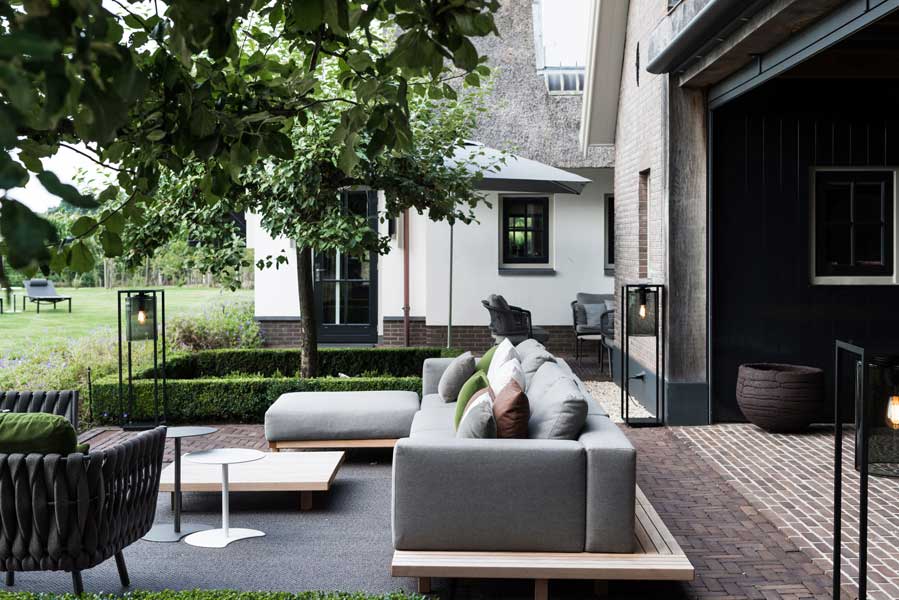 Ook eens kennismaken?
Wil je eens praten over de mogelijkheden? Wij hebben ruime ervaring met het inrichten van huizen en appartement in binnen- en buitenland. Kom gerust bij ons langs in de showroom in Barneveld. Dan drinken we een kop koffie en bespreken we je woonwensen. We zijn benieuwd hoe we je interieur- en outdoorbeleving kunnen vormgeven!