Trends in nieuwe buitencollecties 2018: Tribu, Dedon, Roda en Hora the Collection
2018-02-09
Het is februari en we kunnen in Nederland eigenlijk nog niet buiten zitten, maar de buitentrends voor 2018 maken dat ik enorm uitkijk naar de eerste warme dagen van het jaar. In de nieuwste buitencollecties zie ik veel kleur, verschillende materialen en hier en daar zie je bandwerk. Soms verfijnd of juist heel robuust. Met de nieuwe collecties van Tribù, Dedon, Roda en Hora the Collection gaan we een uitgesproken mooi buitenseizoen tegemoet. Ik heb er zin in!
Tribú meubelen met vele combinaties in kleur- en steensoorten
Het Belgische Tribù, altijd al een van de smaakmakers in onze showroom, heeft een prachtige collectie neergezet waarin veel verfijnde vechtwerken naar voren komen. Maar, ook het robuuste bandwerk zien we dit tuinseizoen terug!
Het bandwerk is sowieso een hele mooie trend voor het komende seizoen, neem daarbij de vele mogelijke combinaties in kleuren en steensoorten en je hebt een collectie die je eigenlijk in elke tuin wel kunt neerzetten.
De groene trend uit 2017 zet zich door in 2018, we mogen nog steeds losgaan met de kleur groen. Het mooiste is om een mix & match te maken van diverse materialen en stoffen en van daaruit een geheel te creëren.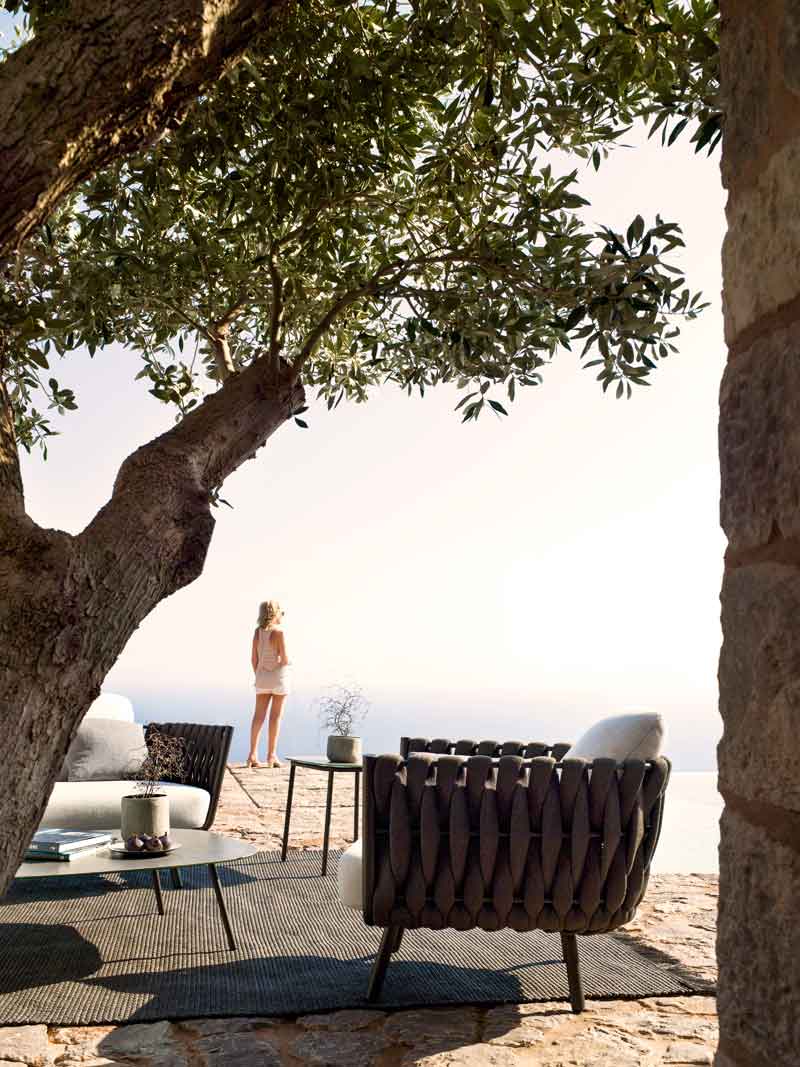 Verfijnd en stevig vlechtwerk van Dedon
De nieuwe collectie van Dedon is inmiddels ook gearriveerd in onze showroom. Dit Duitse merk staat bekend om zijn vlechtwerk - daar is Dedon heel sterk in. In 2018 hebben zij een nieuwe collectie gelanceerd waaronder de MBRACE Collectie: mooie verfijnde vlechtwerken gecombineerd met teak. De TIBBO collectie is ook een van mijn favorieten. Een teak houten bank die gecombineerd is met jeansblauw. Onwijs mooi!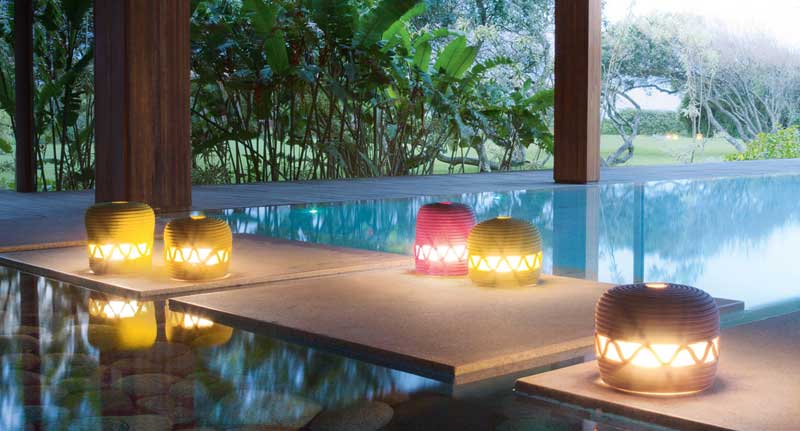 Betonlook nog steeds een trend in 2018
En laat het nu net zo zijn dat Hora the Collection deze look voor jou op maat kan maken. In sommige projecten hebben we ze al verwerkt, maar sinds dit jaar zijn er ook meubels van Hora the Collection in onze showroom te zien. We maken het volledig op maat, denk hierbij aan plantenbakken, sidetables, coffeetables, kleine bankjes… het kan allemaal!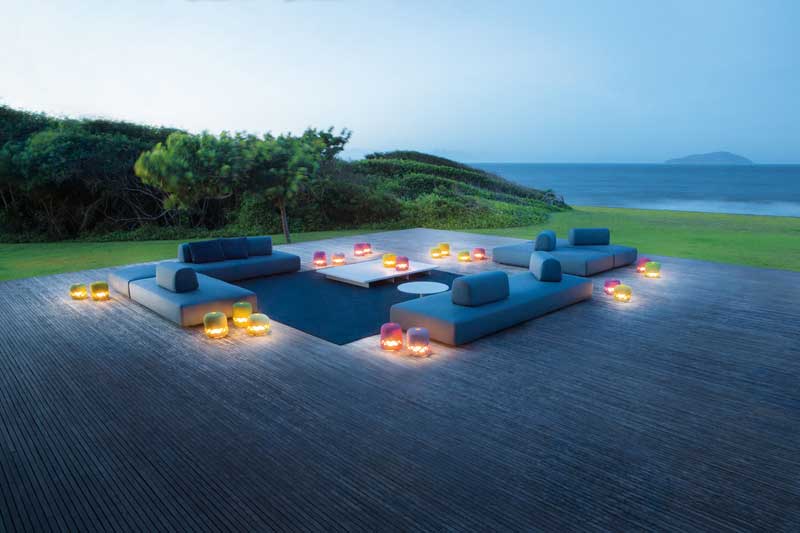 Kleur, kleur en kleur!
Qua kleuren zien we groen dus veel terug in 2018. Maar, het kan veel gekker! Denk ook eens aan een rood, blauw of geel om je tuin kleur te geven. Kijk eens naar de Agadir van Paola Lenti, dit zijn handgemaakte lantaarns die in talloze kleuren verkrijgbaar zijn. Wat ik persoonlijk zou adviseren: ga je voor kleur, kies dan je basis uit in rustige kleurtinten en pak uit met je sierkussens. Bang om met kleur te spelen? Geef je tuinset dan een lichte touch up door een klein item toe te voegen met een speelser kleurtje of patroon.
Uitgesproken designs en bijzondere kleuren bij Roda
Veel kleur en veel steen, met mooie brons tinten en veel groen zien we ook terug in de nieuwe collectie van het Italiaanse Roda. Een merk dat uitermate goed valt bij de meer creatief ingestelde klanten. Als je de klassieke tuinmeubels net te saai vindt, kun je met Roda meubelen gaan voor een mooi uitgesproken tuininrichting. Bovendien gaat Roda goed samen met Tribù! Het is heel leuk om in onze tuinmeubelcollectie te mixen en te matchen met verschillende merken. Dat maakt juist jouw tuin zo uniek!
Kom de nieuwe collecties met eigen ogen bekijken
Wil je deze prachtige nieuwe collecties, de vele trends en kleuren komen bekijken? Vooral het bandenwerk moet je echt even met eigen ogen zien. Daarmee kun je je tuin een eigentijds karakter geven. We zien je graag snel in onze showroom in Barneveld!