That distinguished feeling of supreme pleasure
Unique HORA outdoor design in the rural tranquility of Gelderland
You will find this beautiful country house in the center of Gelderland, between the meadows. We were asked to make a complete design for all the different terraces around the house. Our starting point was to create one coherent ambiance using different brands and materials. The residents are lovers of Italian design and wanted to see that translated outside. The client wanted to be surprised so gave us carte blanche to come up with the design. After a visit at home to take all measurements and taste the surroundings, we set to work. Because of the total freedom we were able to create a true HORA design and dress it up to an ultimate outdoor experience with a Mediterranean feel.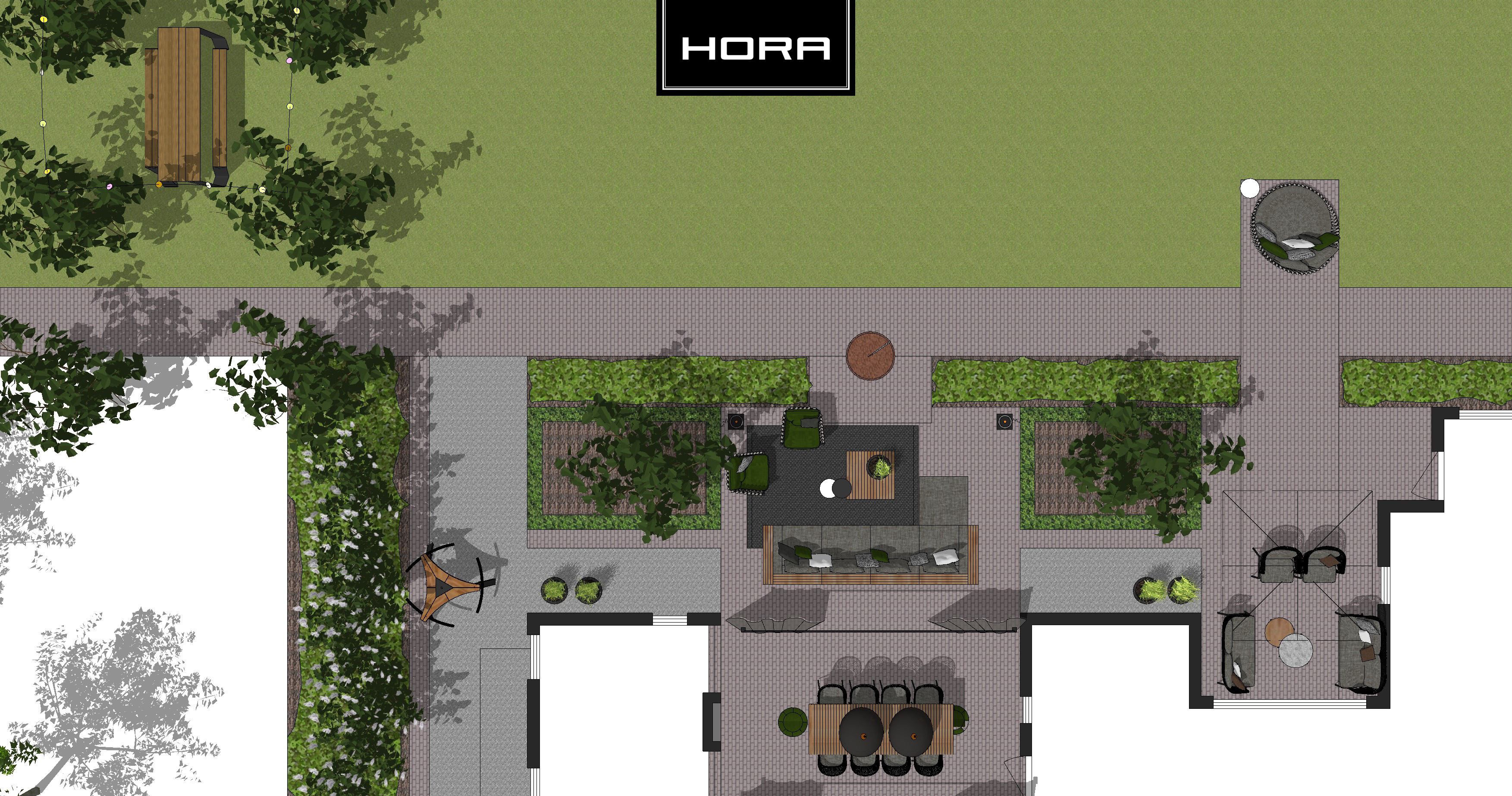 THE ADVANTAGE OF A DESIGN
People with a feeling for design know perfectly well what they like and what they don't like. But how do you combine all those beautiful design without losing unity? The residents of this country house had the exact same question. By designing a complete picture and making it as visual as possible, we were able to show the customer at once what to expect. After the presentation of the design with all the materials and fabrics, the residents were so enthusiastic that we were allowed to realize it. Precisely because of the unity of this design, this has become one of our most beautiful realizations.
THE PRODUCTS
We have chosen many different products from the collections of our top brand Tribù. Collections such as CTR, Vis à Vis and Tosca provide this garden with that Italian feel. The picnic bench and bar table are by Extremis. Alongside the house we have placed two comfortable Mbrace fauteuils from Dedon. Under the canopy we find the large Vis à Vis dining table with CTR chairs. Hanging above are two large lamps from Heatsail with lighting and infrared heating. Next to all the furniture, we decorated with outdoor carpets from Tribù, lamps from Royal Botania, pots by Domani and a Tuuci parasol. We placed the large round Tosca daybed on the terrace extension in the grass from where you have a beautiful view over the meadows. On the grass we placed the comfortable Illum sunbeds.
The fabrics and colors we have chosen are at the service of the house and garden. Warm earthy tones, combined with moss green and terra give the design a luxurious look. Garden furniture must, of course, have a comfortable seat, those moments of outdoor leisure should be comfortable and practical. That's why all materials and cushions are all-weather and can be left outside year round. We are very proud of the result, precisely because it shows that a well thought-out design ensures that everything is in harmony.